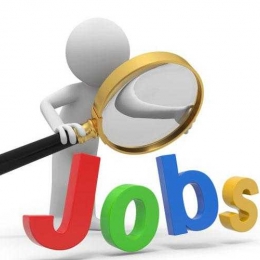 Lowongan Kerja Jakarta Barat PT Harrisma Informatika Jaya Posisi Product Marketing Manager – Distribution Product & Solution – Mandarin Speaker
Selamat siang, bagi kalian yang sedang mencari pekerjaan baru, lowongankerjalampung.com memiliki informasi lowongan kerja yang mungkin sesuai dengan minat dan bakat kalian. Sedang mencari pekerjaan dengan penempatan di Jakarta Barat dan sekitarnya? Kami menyediakan informasi lowongan pekerjaan dari berbagai perusahaan, agensi, lembaga, serta instansi terpercaya. Kami menyarankan Anda untuk mencari berdasarkan posisi yang dibutuhkan untuk memudahkan pencarian.
Sebelum mengajukan aplikasi atau lamaran kerja di lokerhariini.web.id, ada beberapa hal yang perlu Anda perhatikan sebagai pelamar kerja:
1. Baca baik-baik kriteria lowongan kerja. Informasi lowongan kerja yang tertera di website kami berasal dari penyedia kerja. Sehingga kendala atau masalah yang Anda hadapi menjadi tanggung jawab pihak penyedia;
2. Lengkapi persyaratan. Masing-masing penyedia kerja memberikan syarat dan ketentuan berbeda. Jadi, pastikan Anda melengkapinya sebaik mungkin;
3. Isi dengan informasi valid. Informasi yang Anda serahkan pada lamaran kerja sebaiknya merupakan data-data valid untuk memudahkan konfirmasi dan penyeleksian;
4. Ikuti alur pengajuan lamaran dari pihak penyedia kerja. Untuk mencegah keterlambatan dan kesalahpahaman, selalu ikuti jadwal atau alur pengajuan dari penyedia lamaran kerja.
Berikut ini lamaran kerja terbaru yang dapat Anda pertimbangkan:
Lowongan Kerja Posisi Product Marketing Manager – Distribution Product & Solution – Mandarin Speaker di PT Harrisma Informatika Jaya
DESKRIPSI LOWONGAN KERJA
Product Marketing Manager – Distribution Product & Solution :
A person who understand the products deep, can develop the market share of products and engage end to end process from principals, partners, sales team until end user.
Main Duties :
Engage with customers to gather feedback, understand their needs, and ensure their satisfaction with our product offerings.
Analyze market trends, customer needs, and competitive products to drive product direction and strategy.
Cultivate and maintain relationships with end users, partners, and principals. Seek opportunities for partnership level-ups, negotiations, and collaborations.
Creating forecast, ordering products & inventory management.
Sharing product knowledge / training product to sales team.
Develop and manage the marketing budget for the product division, ensuring efficient allocation, profitable growth and fiscal responsibility.
Plan and execute product launches, including marketing campaigns, PR, and event coordination.
Collaborate with the sales team to set pricing strategies and structures for the product portfolio.
Provide product presentation to customers that understand the technical concept.
Working closely with Presales and Engineer to provide Solution Proposal and Proof of Concept (POC).
Provide regular updates and reports to management on product performance, challenges, and opportunities. Use data-driven insights to inform strategic decisions and improve product offerings.
Requirements:
Maximum 35 years old.
Minimum Bachelor degree (S1).
Having experienced minimum 3 years as a Product Specialist / Product Marketing on all product for project and solutions is a must.
Strong background in data & analyst (Ms. Excel min Pivot, HLookup, VLookup).
Understanding of marketing and negotiating techniques.
Ability to conduct market research to identify selling possibilities and evaluate customer needs.
Able to communicate in English & Mandarin both oral and written is must (active).
Computer skill is a must (MS office, MS outlook, Internet, etc).
Able to work independently as well as in a team and self motivated.
Solution-oriented with a keen attention to detail.
An adaptive learner with a proactive approach.
A high level of integrity and professionalism.
Willing to work in west Jakarta – Meruya area ( Head Office ) and ready to business trip to outsite jabodetabek area for project.
Adapun informasi perusahaan sebagai pihak penyedia tertera di bawah ini:
Informasi Tambahan Lowongan Kerja
Tingkat Pekerjaan : Manajer/Asisten Manajer
Kualifikasi : SMA, SMU/SMK/STM, Sarjana (S1), Diploma Pascasarjana, Gelar Professional, Magister (S2)
Pengalaman Kerja : 3 tahun
Jenis Pekerjaan : Penuh Waktu
Spesialisasi Pekerjaan : Penjualan / Pemasaran, Pemasaran/Pengembangan Bisnis / 503, 139
Perkiraan Gaji : 10000000 – 20000000
pt-harrisma-informatika-jaya
Informasi perusahaan Pemberi Kerja, PT Harrisma Informatika Jaya

Based on the rapid progress of information technology, in 1986 Harrisma seized an opportunity to develop an IT business in Indonesia. By accelerating the technology transfer through partnership with leading IT vendors such as : Hewlett Packard (HP), Dell, Lenovo, Fuji Xerox, Zebra Technologies, Brother, Panasonic, Samsung, Extreme Network, AOC Monitor, SAP, Radio Communication (Motorola Solution & Hytera), Point Of Sales (JANZ), UPS (Vertiv&Cyber Power), Fuji Film, Interactive Display (Promethean & Uniview), CCTV & Security Solution System (Honeywell, Pelco & Uniview) etc;
Our Vision :
Become one of the "Best Indonesian Top 10 IT companies" with the best sales achievement, Best IT Solutions and Services Provider.
Our Mission :
Transfer knowledge and technology through our cooperation with chosen vendors to increase Indonesian IT development.
Provide facilities and reliable IT solutions and services through all our branches in many cities in Indonesia with a standardized services and expertise.
Keep maintaining and expanding the company to reach the maximum term of potential gain and efficiency value.
Enhance the quality of human resources and helping the government to decrease the unemployed labour in Indonesia.
Informasi Tambahan Perusahaan PT Harrisma Informatika Jaya
Ukuran Perusahaan : 51 – 200 pekerja
Waktu Proses Lamaran : 21 hari
Industri : Komputer/Teknik Informatika (Perangkat Keras)
Tunjangan dan Lain-lain : Tip, Asuransi kesehatan, Parkir, Waktu regular, Senin – Jumat, Bisnis (contoh: Kemeja)
Lokasi : Jakarta Barat
Setelah selesai mengajukan lamaran kerja, silakan tunggu pemberitahuan selanjutnya dari pihak penyedia kerja. Jika Anda ingin menanyakan informasi lebih lanjut sehubungan posisi ini, silakan kontak langsung ke perusahaan bersangkutan melalui kontak yang telah disediakan.
Apakah posisi ini bukan yang Anda butuhkan? Silakan teruskan penelusuran Anda di lowongankerjalampung.com untuk menemukan lowongan kerja yang diperlukan. Apabila ingin menanyakan sesuatu perihal website kami atau ketentuan mengunggah iklan lowongan kerja, segera hubungi kami. Dengan senang hati, kami akan membantu Anda untuk mengurusnya.
Demikian informasi lowongan kerja dari Lokerfavorit.com, untuk lebih lanjut dan melamar silahkan klik tombol "Lamar Sekarang" di bawah. Lokerfavorit.com berharap informasi ini dapat membantu kalian dalam menemukan pekerjaan impian.
Tekan tombol "Lamar" sekarang juga untuk melamar pekerjaan ini melalui situs lowongankerjalampung.com tempat menemukan lowongan kerja favoritmu.