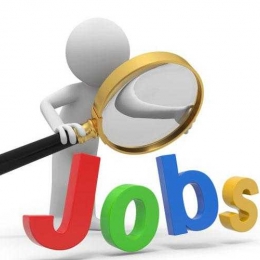 Lowongan Kerja Jakarta Barat PT Harrisma Informatika Jaya Posisi SAP Business One Consultant ( Functional Consultant SAP B1 )
Selamat siang, bagi kalian yang sedang mencari pekerjaan baru, lowongankerjalampung.com memiliki informasi lowongan kerja yang mungkin sesuai dengan minat dan bakat kalian. Sedang mencari pekerjaan dengan penempatan di Jakarta Barat dan sekitarnya? Kami menyediakan informasi lowongan pekerjaan dari berbagai perusahaan, agensi, lembaga, serta instansi terpercaya. Kami menyarankan Anda untuk mencari berdasarkan posisi yang dibutuhkan untuk memudahkan pencarian.
Sebelum mengajukan aplikasi atau lamaran kerja di lokerhariini.web.id, ada beberapa hal yang perlu Anda perhatikan sebagai pelamar kerja:
1. Baca baik-baik kriteria lowongan kerja. Informasi lowongan kerja yang tertera di website kami berasal dari penyedia kerja. Sehingga kendala atau masalah yang Anda hadapi menjadi tanggung jawab pihak penyedia;
2. Lengkapi persyaratan. Masing-masing penyedia kerja memberikan syarat dan ketentuan berbeda. Jadi, pastikan Anda melengkapinya sebaik mungkin;
3. Isi dengan informasi valid. Informasi yang Anda serahkan pada lamaran kerja sebaiknya merupakan data-data valid untuk memudahkan konfirmasi dan penyeleksian;
4. Ikuti alur pengajuan lamaran dari pihak penyedia kerja. Untuk mencegah keterlambatan dan kesalahpahaman, selalu ikuti jadwal atau alur pengajuan dari penyedia lamaran kerja.
Berikut ini lamaran kerja terbaru yang dapat Anda pertimbangkan:
Lowongan Kerja Posisi SAP Business One Consultant ( Functional Consultant SAP B1 ) di PT Harrisma Informatika Jaya
DESKRIPSI LOWONGAN KERJA
SAP Business One Consultant ( Functional Consultant SAP B1 ) : 
Professionals design, implement and deploy SAP B1 functional solutions to achieve defined business goals. Maintain skills in SAP B1 applications process design and configuration; SAP B1 application design, development, integration, testing and deployment; and application technical architecture.
Generate knowledge about the current business process, design current business flows, study current business processes and its complication, in all we can say getting through with current business setup.
Customizing the respective business area and making sure the system reacts in the manner according to the constraints of the requested use case.
Settings and prepares proper guidelines that allow other consultants to do further changes or repairs with due efforts.
Helping and support team in developing and creating solutions and services in SAP B1 product.
Main Duties: 
Analyze business requirements (e.g., functional and technical requirements, information need, business processes) by conducting information-gathering sessions with clients, analyzing the information and being able to document an accurate understanding of their business requirements and mapping of those to SAP B1 business processes.
Confidence and ability to make recommendations for the selection of appropriate SAP B1 business processes to meet client requirements effectively.
Functionality Testing: Knowledge of and ability to use testing methodologies, processes and tools for testing of functionality, including unit, integration, system, regression and dry run testing.
Ability to design and develop test plans (e.g., test objectives, test cases, test data, test scripts) for executing unit, integration, system or acceptance testing in order to ensure the solution meets the business requirements.
Develop process models based on business requirements in order to determine the completeness of the information and process components.
Coordinate execution of project tasks in your functional area and be comfortable in working under the pressure of tight project deadlines.
Provide support (e.g., break/fix, how to expertise, minor enhancements, monitoring, testing) for business applications or infrastructure to associates or third parties in order to maintain their productivity level (including international and fourth level break/fix support), Flow diagrams and DFD.
Ability to deliver basic SAP B1 training to client end-users.
Work very closely with business decision makers and end users.
Testing, reviewing, correcting and enhancing code written by other developers and some activities.
Helping, supporting and working together with sales team for meeting, presentation, visiting, negotiating, dealing and selling to new customer and/or existing customer is a must ( Project ).
Requirements: 
Maximum 35 years old.
Must attach the recent photograph in this position.
Have own a vehichle (Motor / Car) is a must.
Must understand the process of Accounting.
Having experience minimum 3 year at SAP B1 Company / Software House / Developer Company, in ERP Consultant Functional / Application / Business Analyst posistion and familiar with SAP B1 is a must.
Good skill and experience in SAP B1, Business Analyst, Business Process, Business Blueprint, UAT, User Training, SQL Server, MySQL Database, Go Live and Implementation, is a must.
Detail oriented, ability test every Add On and Application.
Understanding of the disciplines required to develop and create SAP B1 project is a must.
Able to communicate in English both oral and written is a must (active) and mandarin (pasive) is our priority.
Discipline, fast learner, high accurate and able to work under pressure.
Able to work independently as well as in a team and self motivated.
Willing to work in west Jakarta – Meruya area and assigned to customer office.
Adapun informasi perusahaan sebagai pihak penyedia tertera di bawah ini:
Informasi Tambahan Lowongan Kerja
Tingkat Pekerjaan : Pegawai (non-manajemen & non-supervisor)
Kualifikasi : SMA, SMU/SMK/STM, Sertifikat Professional, D3 (Diploma), D4 (Diploma), Sarjana (S1)
Pengalaman Kerja : 3 tahun
Jenis Pekerjaan : Penuh Waktu
Spesialisasi Pekerjaan : Komputer/Teknologi Informasi, IT-Perangkat Lunak / 508, 191
Perkiraan Gaji : 12000000 – 18000000
pt-harrisma-informatika-jaya
Informasi perusahaan Pemberi Kerja, PT Harrisma Informatika Jaya

Based on the rapid progress of information technology, in 1986 Harrisma seized an opportunity to develop an IT business in Indonesia. By accelerating the technology transfer through partnership with leading IT vendors such as : Hewlett Packard (HP), Dell, Lenovo, Fuji Xerox, Zebra Technologies, Brother, Panasonic, Samsung, Extreme Network, AOC Monitor, SAP, Radio Communication (Motorola Solution & Hytera), Point Of Sales (JANZ), UPS (Vertiv&Cyber Power), Fuji Film, Interactive Display (Promethean & Uniview), CCTV & Security Solution System (Honeywell, Pelco & Uniview) etc;
Our Vision :
Become one of the "Best Indonesian Top 10 IT companies" with the best sales achievement, Best IT Solutions and Services Provider.
Our Mission :
Transfer knowledge and technology through our cooperation with chosen vendors to increase Indonesian IT development.
Provide facilities and reliable IT solutions and services through all our branches in many cities in Indonesia with a standardized services and expertise.
Keep maintaining and expanding the company to reach the maximum term of potential gain and efficiency value.
Enhance the quality of human resources and helping the government to decrease the unemployed labour in Indonesia.
Informasi Tambahan Perusahaan PT Harrisma Informatika Jaya
Ukuran Perusahaan : 51 – 200 pekerja
Waktu Proses Lamaran : 21 hari
Industri : Komputer/Teknik Informatika (Perangkat Keras)
Tunjangan dan Lain-lain : Tip, Asuransi kesehatan, Parkir, Waktu regular, Senin – Jumat, Bisnis (contoh: Kemeja)
Lokasi : Jakarta Barat
Setelah selesai mengajukan lamaran kerja, silakan tunggu pemberitahuan selanjutnya dari pihak penyedia kerja. Jika Anda ingin menanyakan informasi lebih lanjut sehubungan posisi ini, silakan kontak langsung ke perusahaan bersangkutan melalui kontak yang telah disediakan.
Apakah posisi ini bukan yang Anda butuhkan? Silakan teruskan penelusuran Anda di lowongankerjalampung.com untuk menemukan lowongan kerja yang diperlukan. Apabila ingin menanyakan sesuatu perihal website kami atau ketentuan mengunggah iklan lowongan kerja, segera hubungi kami. Dengan senang hati, kami akan membantu Anda untuk mengurusnya.
Demikian informasi lowongan kerja dari Lokerfavorit.com, untuk lebih lanjut dan melamar silahkan klik tombol "Lamar Sekarang" di bawah. Lokerfavorit.com berharap informasi ini dapat membantu kalian dalam menemukan pekerjaan impian.
Tekan tombol "Lamar" sekarang juga untuk melamar pekerjaan ini melalui situs lowongankerjalampung.com tempat menemukan lowongan kerja favoritmu.